Panel attended by over 140 participants, including students, teachers, parents, faculty, and alumni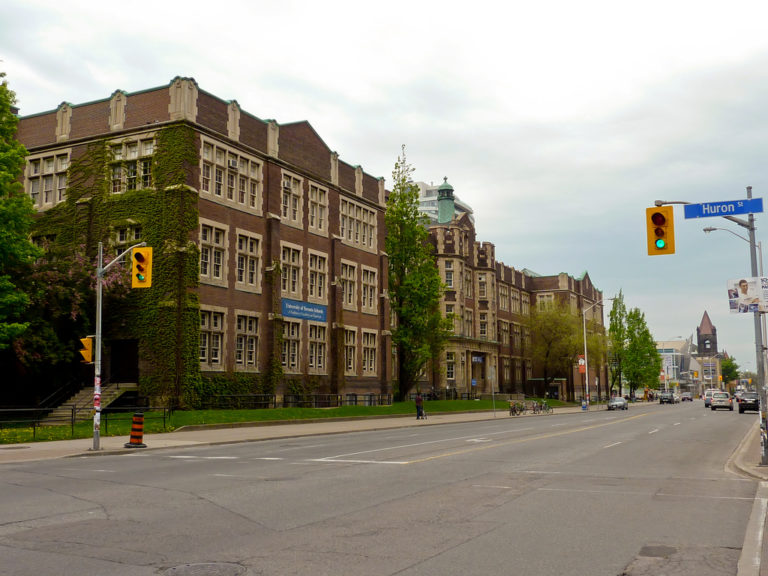 Overt and subtle prejudicial treatment of Black students in the University of Toronto Schools (UTS) community have been experienced by students spanning multiple graduating classes, according to an online panel discussion attended by over 140 people on June 10.
The panel, co-moderated by UTS Black Equity Committee executives Daeja Sutherland and Leyat Tesfaye, comprised Taylor Shirtliff-Hinds (Class of '17), Cindy Gao (Class of '17), and Kyra Colbert (Class of '16), all third-year undergraduates at Harvard University.
The discussions follow unprecedented international demonstrations against systemic racism and police brutality, sparked by the killing of George Floyd, an unarmed Black man, by police officers in the United States.
Overt racism throughout six years at UTS
In the panel, Shirtliff-Hinds reflected on experiencing discrimination in her transition from elementary school to UTS in 2011. "I was a little surprised because I came from a gifted elementary school where I knew all the kids in my class, and we'd always help each other out with problems," she said. "But when I came to UTS, I found that no one really wanted to work with me. And people weren't interested in hearing my opinions."
"That progressed throughout my time at UTS to people constantly asking me if they could use the N-word, or just using the N-word without my permission, even when I told them that was not okay with me," she continued.
"Someone called me a 'filthy half-breed' as a nickname," she said. "Even when I became interested in boys, I remember this guy I was interested in, said that he wouldn't date Black girls."
The impact of prejudice on Shirtliff-Hinds's experience at UTS
"These comments kept on building up and affected a lot of my decisions at UTS," said Shirtliff-Hinds, "including small things like whether I was going to join the basketball team."
Shirtliff-Hinds joined the team for a year, but experienced "so many comments about why [she] wasn't good, [or] whether [she] should be good [at basketball]" due to her ethnicity. 
"I wasn't that good at basketball, but it was fun," she said. "But I ended up not joining the team again, because it was a stressful experience to have all these… stereotypes being projected onto me from what I thought were my friends in the UTS community and people that I had known for a long time."
Subtle experiences of racism at UTS
"Hearing Taylor's story was really heartbreaking," said Colbert in response, "because I obviously was at school at the same time as Taylor, and I just didn't realize that was happening."
"I think the Black community is underrepresented at UTS, and [in] this community, we're allowed to just think that it's not an issue and that it doesn't affect our peers, when it really does," she continued.
Kristine Uchendu, a UTS alumna (Class of '19) at McMaster University and attendee, noted experiencing racism when "people would make very broad-brush statements about the Black community."
"I remember distinctly witnessing it early when I was in S6," she said. She recalled students raising rhetorical questions, such as pondering why Black people are overrepresented in US prisons, as underhanded ways to vilify Black people and associate them with criminality.
Sutherland added how she would hear rhetoric would shift from overt "stereotypically racist" jokes and remarks in her foundation years to subtle racism in her senior years. Students would ponder "why it's easier for Black people to get in [to universities]… when other minorities are working harder."
Gao reflected: "I also remember where there were instances where I heard the N-word being used. And I knew it was wrong, but I didn't really understand why… I felt scared to say something because I felt like I wasn't educated or qualified to speak on the matter."
Calls for reform at UTS by attendees, including faculty
To address subtle racism, Sutherland advocated for expanded education on Black history at UTS — not just concerning the history of slavery, she noted, but also its impact on historical events that followed. She also called for education on how the achievements of Black people have positively influenced society.
Martine Duffy, also an attendee and UTS alum (Class of '17), noted that students also have the responsibility to combat overt and subtle racism. They recalled how students passed off overt racism "under the guise of irony."
"It's edgy humour that creates a social dynamic where if you try to respond to it, you're not in on the joke, you're crashing a party," Duffy said. They framed the barriers to speaking up as a "collective action problem," and noted that a solution could comprise a cultural shift that normalizes students calling out racist behaviour.
Mitch Chuvalo, a UTS Health & Physical Education teacher and attendee, spoke in strong support for increased representation of Black students and Black teachers at UTS. He questioned "why there aren't more Black students and Black teachers at UTS."
He recalled a former UTS faculty member retiring from the institution twice. "Both times in his retirement speech, he said that 'UTS is a great school, but why aren't there more Black students and Black teachers here?'" recalled Chuvalo. "And there was an uncomfortable silence, but nothing ever transpired because of that question, and I want to know why that is still the case."
 "I think if we had a larger population of Black students and Black teachers, there would be a more upfront and ever-present discussion on these issues," he continued. "And that's not happening now."
Current efforts to address racism at UTS
Makeda Daley, the Director of Outreach Programs & Community Engagement at UTS, reflected on the institution's efforts to address racism.
In an effort to increase diversity, Daley noted that UTS has used its March Break and summer programs in order to find students "who are interested in the school and who do reflect kind of more accurately the landscape of the City of Toronto in general."
Daley also mentioned that UTS is working with the Leadership by Design program with the Lifelong Learning Institute. According to its website, the program aims to provide leadership opportunities to "youth in the African-Caribbean community."
She said that to her, the ultimate goals of UTS's outreach efforts are to ensure that prospective students "do see themselves reflected in the population there," along with seeing representation "in the teaching staff, the operation staff, [and] the management teams."
"It is a personal passion of mine to help this community expand, grow in the realm of anti-racism." She also noted herself as a potential contact for students to approach who "find themselves struggling with racist encounters in the school." 
The impact of representation in a student community
Paige Kobe, an attendee and one of Shirtliff-Hinds's closest friends, recalled discussing Shirtliff-Hinds's transition from UTS, as the only Black student in her grade, to Harvard University, which had a higher representation of Black students than UTS.
Kobe recalled Shirtliff-Hinds finding a "wonderful group of people… who totally get her," she said. "The difference in her voice [after entering university] when she talks is night and day."
Chuvalo agreed on the importance of Black representation at UTS. "Everybody here had teachers who played such an important part in their lives as mentors," he said. "To see yourself represented [by] a teacher as someone who advances and passes on knowledge … [can be] a key critical point [of one's development]."
As a "concrete first step," Chuvalo underscored his advocacy for hiring more Black faculty members at UTS.
Following the panel, UTS alumni signed an open letter calling for reform, published on June 10. Current UTS students signed a second letter on June 12.
Letter from UTS alumni to UTS administration — June 10, 2020
Letter from UTS students to UTS administration — June 12, 2020