Data visualization and WordPress proficiency portfolio
Sample 1: Links to WordPress websites I developed and manage
Astronomy and Space Exploration Society (highlights include: modal popup, carousel of profile pictures with clickable images, embedded timeline that shows progress on the "Schedule" page, and more features that help engage visitors): asxsociety.com
Personal website (demonstrates ability to publish and embed posts with images, headlines, and sub-headlines): https://www.adamlam.ca/articles/
Sample 2: A visualization of data in a table with search
Sample 3: A demonstration of website data scraping and cleaning
I scraped the data presented in Sample 1 via Google Sheets, as a volunteer contributor to an Open Data working group at the Dalla Lana School of Public Health. You can view the raw data in the Google Sheet, navigating through different sheets in the file to see how I used a semi-automated method to scrape data from the Government of Canada's website, clean it, and verify it in a final step: https://docs.google.com/spreadsheets/d/1YjyAWZcnVAJ4dkmw4IN-qiyaZ9Wm5dQQ1P7l4DEchZU/edit?usp=sharing
This skill of semi-automated data collection (which saved me from human error and several hours of work in data collection) could help with feature writing and news reporting.
Sample 4: Embedded map with annotations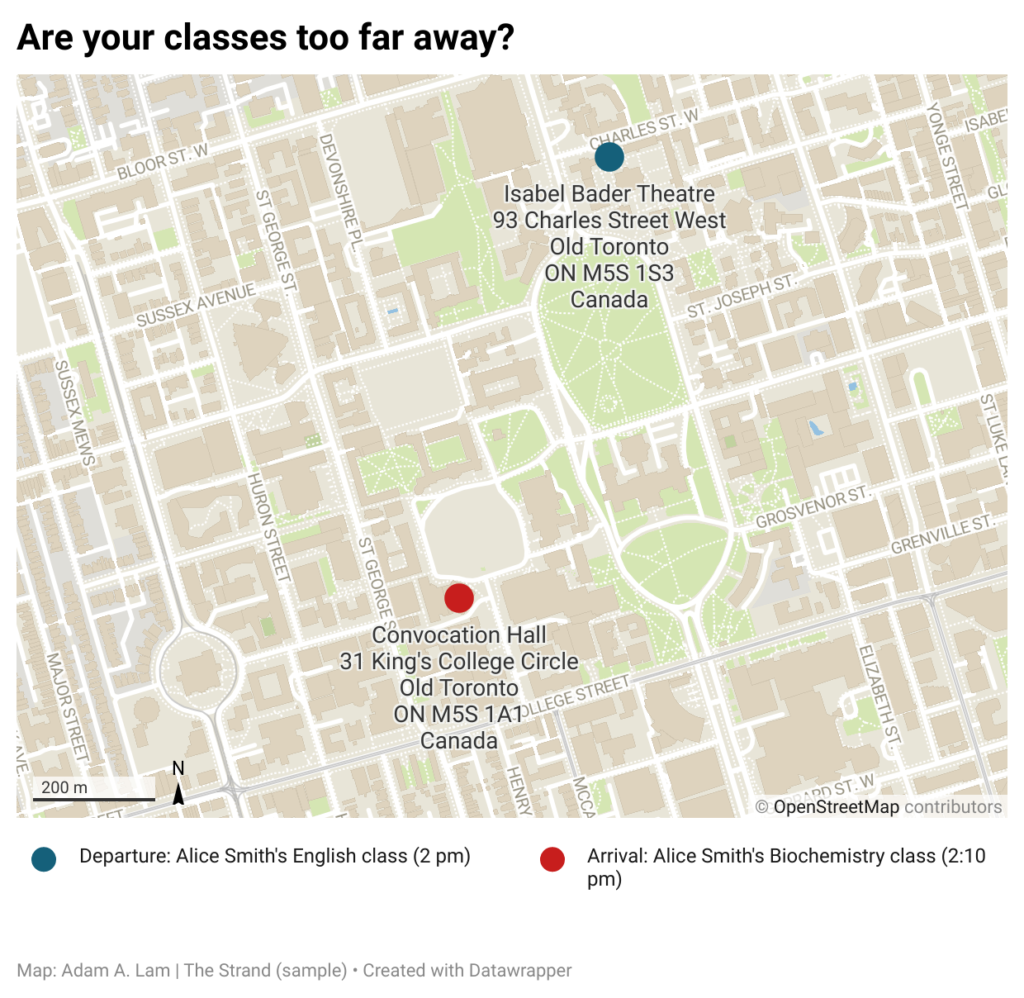 In an interview with The Strand, Alice Smith noted that ten minutes is barely enough time to get from her English class at Isabel Bader Theatre at 2:00 pm to her Biochemistry class at Convocation Hall by 2:10 pm, especially with snowfall in the winter.
Sample 5: PDF, YouTube, and Twitter embeds
PDF sample: The full document, published with an open-source license by Professor Allen Downey, is one of the most popular introductory texts on programming with Python.
YouTube sample: Catch a trailer of The Strand's magazine launch in 2018 below.
Twitter sample:
Our digital mag is live on our new site!

We invite you to delve into our website and allow yourself to wander through the various essays, poems, and photographs that our amazing creators have allowed us to publish. https://t.co/UJsXOyrUe4

illustration by Yoon-Ji Kweon pic.twitter.com/u3pXapE8j7

— The Strand (@strandpaper) December 17, 2020